If you are searching for 'asbestos removal Croydon' then perhaps consider All About Asbestos. Based in Broadstairs, we are a highly experienced asbestos remediation company who are here to help!
We undertake jobs throughout Kent and South London, no matter where they are. If you need a reliable and trustworthy asbestos removal company to take care of the work, we are the perfect company to consider. With over 30 years of raw experience in carrying out asbestos removals and surveying, we know exactly how to tackle any asbestos-related job.
Please call us today on 01843 600765 to book in your asbestos removal in Croydon!
Why is Asbestos Dangerous?
Asbestos was only banned in the UK in 1999, nearly 20 years ago. It was used on all kinds of building materials and house builds before the 1980's so it is likely that your house will contain asbestos if it was built before this time. You can also find all types of asbestos across other areas of houses and buildings such as Artex ceilings and piping. There are 6 known types of asbestos, however, only 3 of these types are commonly found in the UK.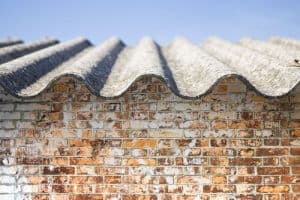 Asbestos is not dangerous by default but it becomes dangerous if the fibres are inhaled our if you come into close contact with them. A lot of asbestos is safe if it remains undisturbed but this isn't guaranteed. We would always advise that you get the asbestos checked and sampled by a professional as they will be able to identify this for you.
Asbestos has been connected with various respiratory illnesses such as asbestosis and mesothelioma, therefore it's important to tackle the issue as quickly as possible. Preventing exposure of asbestos will prevent anyone from inhaling the fibres and being affected by any of the known illnesses.
Friable vs Non-Friable Asbestos
Asbestos can be put into 2 main categories which are known as friable and non-friable.
Friable asbestos can normally be identified through a crumbled substance. If asbestos is friable then it will be classed as dangerous. This type of asbestos is most likely to be inhaled by humans and therefore poses the most risk when it comes to short-term and long-term health problems. If you come into contact with friable asbestos then it could majorly affect your health and therefore it is highly important that it is dealt with properly.
Non-friable asbestos is much more solid and therefore it is a lot less easily disturbed. In many cases, non-friable asbestos may not need to be removed. This will entirely depend on the condition of the asbestos itself. If the asbestos is mostly solid then removing it could be more detrimental. As a professional asbestos removal company, we make sure that it is entirely safe before carrying out a removal, ensuring that all relevant checks and tests are carried out before doing anything. We are entirely focused on health and safety and will only ever remove asbestos if we have concluded that this is the safest thing to do.
There is a clear difference between friable and non-friable asbestos so be sure to speak to a professional in the asbestos industry. They will be able to conduct tests and samples on the asbestos in order to find the asbestos-containing materials.
Get the Asbestos Surveyed  
Before any kind of asbestos removal can take place, you'll need to make sure that there is definitely asbestos present. In order to correctly identify the asbestos, an asbestos survey will need to be carried out by an experienced individual. At All About Asbestos, we are committed to keeping our customers safe and providing them with the exact service that they require, ensuring that health and safety come first.
An asbestos survey will consist of various samples being taken by the team within the affected area. Once the asbestos sample has been collected, it will be sent off for testing which will confirm whether the area contains any asbestos. If the area is concluded to contain asbestos-containing materials then we will need to consider whether it is worth removing the asbestos or not. If the asbestos has been damaged or is judged to be susceptible to damage in the future, it is likely that the asbestos will need to be removed. This will entirely depend on the condition of the asbestos – every job is different.
Getting Your Asbestos Removed in Croydon
Once asbestos has been confirmed, the team will organise a removal date with you. During the removal, we make sure that all safety precautions are followed and that all affected areas are crossed off. When you choose All About Asbestos, you choose quality and professionalism. Every single job is done with the same dedication and precision as the next, and you will always be kept updated on the asbestos in your home.
Asbestos removal is complex and you should always consult an experienced professional before doing anything. We would never recommend that you try to remove the asbestos yourself – always speak to someone who has done it before!
For more information on our Asbestos Removal Croydon service, please call the office today on 01843 600765. One of the team will be happy to speak to you about your requirements!