Most people are under the impression that asbestos is no longer around us and is rarely found anywhere in the UK these days. The manufacturing and supply of products that contain asbestos were banned in the UK in 1999, however, this definitely doesn't mean asbestos is off our radars. Asbestos can be found in more than 3000 products so the likelihood of being in close proximity to asbestos-containing materials is higher than you would expect.
Used Across Industries & Worldwide
Companies have not been able to produce products with asbestos in the UK for over 20 years, but it has not been banned entirely worldwide. You can still find asbestos being used in all sorts of operations within countries like India, Russia, and China, to name a few. There is always a chance that newly produced items that contain asbestos may end up making their way to the UK due to all importation and trade between the different countries.
A lot of the asbestos that is found in the UK will be down to the mass use of it in the construction industries pre-2000. These days you are most likely to find asbestos in old, artex ceilings and within piping and insulation. The properties of asbestos made it a great material for all kinds of products but studies later on in the 1900s made the risks undeniable…
Risk to Your Health
It has been well researched and proven in terms of how asbestos can affect your health. Asbestos causes problems when the fibres are inhaled through the respiratory system in the human body. Many different types of cancer and lung problems have been associated with asbestos exposure, such as mesothelioma and lung cancer. Asbestos exposure is also known to be a threat in the workplace, particularly for those working in trade (e.g. electrician, plumber, builder.)
Counteracting Asbestos in the New Decade
With asbestos-related deaths still regularly occurring in the UK, over 2000 deaths in 2017, it is important that risks and solutions are still regularly looked at and assessed. Your employer has a duty to manage the asbestos risks within the place of work. This duty includes preparation, detection, and prevention of asbestos in the building. The Control of Asbestos Regulations 2012 lays down all of the rules and regulations and also provides advice to those looking to take on refurbishment work within the building.
Asbestos Remediation Services
If you have any asbestos concerns then we would recommend hiring an asbestos removal company. You should always get an expert in the field to come out and survey the premises so that you pose no risk to yourself or others in the property.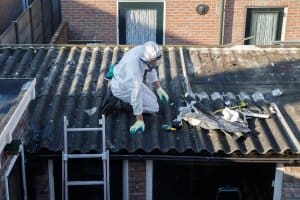 Once the survey and testing have been done, the samples will be sent to a laboratory to confirm the presence of asbestos. Your asbestos expert will then analyse the results and decide whether or not the asbestos needs to be removed. In some cases it is better if the asbestos is not disturbed, and as long as the area is well protected and not disrupted you will be perfectly safe.
To answer the main question of this article, YES you should still be concerned about asbestos in 2020. New cases of the material are still being found in buildings every day and with certain countries still mass-producing with asbestos as part of the plan, there is always a chance of coming close to it. You should not fret, however, as there are many different asbestos remediation companies that have the expertise and tools to deal with the potential problem, and keep us safe. Give the team at All About Asbestos in Kent a call on 01843 600765. Discuss your concerns today!