Asbestos fears for residents of Goldfinch Close, Faversham
Families in Goldfinch Close have complained to the council that it has been more than three weeks since the alarming stickers were placed in the communal areas of several flats.
With little information being fed back to people, they have become concerned that their health could be at risk.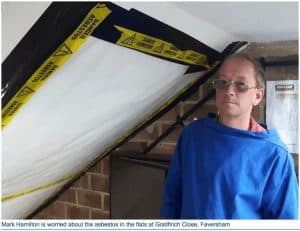 Mark Hamilton is worried about the asbestos in the flats at Goldfinch Close, Faversham
Resident Mark Hamilton said: I went to Swale House to ask about what was going on and they didn't seem to know.
I rang the housing association and they didn't seem to know.
So I started to wonder: who does know what's going on?
When I eventually spoke to someone in the know at the council, they just said it was a precautionary but when you walk through your front door and it says, Danger: asbestos, it is quite concerning.
It is also worrying because it has now been there for three weeks and nothing is being done to remove the asbestos.
We think we will have to move out for them to deal with it but we are being left in the dark with no information, so how are we meant to know when we need to leave?
I am concerned there are parts of the building which should be sealed off, and there is no explanation to say why not.
Victoria Benson, from Amicus Horizon, said: Following an inspection by our surveyor in October, we found patches of flaky paint under the stairs and ceilings in communal areas on the ground and first floor at Goldfinch Close.
As a precautionary measure, we asked our contractors to seal the affected areas of the ceiling while we investigated further and agreed a course of action.
We tested the air for asbestos fibres and we are satisfied with the results.
Our contractors attended the property on Monday to make a further assessment of the work required to repair the ceilings. They will write to residents at the property to let them know when this will be carried out.
We're sorry if the hazard tape caused alarm but this was purely a precautionary measure.
If you are concerned that you have asbestos in your home or require our asbestos removal service in Faversham please telephone 01843 600765