Asbestos Garage Roof Removal – Explained By All About Asbestos!
An asbestos garage roof removal has become more common in recent times as many households have discovered asbestos to be present on their garage roof. The material was used throughout the 20th century for building garages, so it's safe to assume that many garages today still contain it.
It is important that only professionals handle and remove asbestos. Asbestos poses a huge risk if it is not handled correctly, so we recommend that you leave it to a qualified professional that has some experience in asbestos removals. All About Asbestos, based in Kent, have many years of experience in asbestos garage roof removal. If you are worried about the asbestos in your home or garage then please speak to someone.
Call us today on 01843 600765 and one of our team will be happy to talk you through your options when it comes to your asbestos garage roof.
 History of Asbestos
The mining of asbestos has existed for over 4000 years, but this mining increased in the 19th century. This is due to the positive physical properties that it offered to the building industry, whereby builders started to use it within their daily works. Asbestos was extremely desirable during this period of time.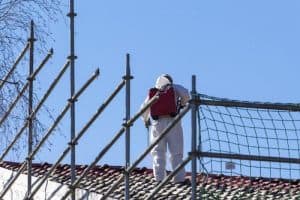 Asbestos had been used for so many different purposes throughout history. However, the most common usage it has had in our society is through construction and building works. Asbestos has several applications in this industry. From insulation to cement, it was used to complement many types of building works.
Although asbestos was banned entirely in 1999, many buildings and garage roofs contain asbestos. Properties that were built prior to the year 2000 may contain asbestos. Asbestos poses a threat to those who come into contact with the fibres as it has been scientifically proven to cause several types of illnesses.
The most common diseases derive from problems with the lungs such as lung cancer, mesothelioma and asbestosis. Therefore, it is important that asbestos is properly managed and regulated properly. These diseases usually occur when an individual comes in contact with asbestos and inhales the fibres as these fibres will make their way to the respiratory system. Often symptoms do not appear for up to 50 years after contact, which is why it is vital that we remove all dangerous asbestos as soon as possible.
Book Your Asbestos Garage Removal Today
It is important that you stay away from the affected area. If you suspect that your garage roof contains asbestos then please do not panic. Contact your local asbestos removal company to get some advice and they will discuss your options with you.
The first thing that will be required is an asbestos survey or sample. This will allow your removal company to establish whether or not there actually is asbestos on your garage roof. The survey confirms whether the sample taken contains asbestos, ensuring that you have the right information.
If the survey confirms asbestos is present then the next step is to decide whether it is beneficial to remove the asbestos or not. Most of the time the asbestos will need to be removed due to the danger it poses, however, this is not always the case so it is important to get this checked out.
As the leading asbestos garage removal company in Kent, we aim to provide each and every customer with a high-quality service. For more information on our asbestos garage roof removal service please call the office today on 01843 600765. One of the team will be able to answer questions you may have regarding the service or asbestos itself.
Natalie is the content writer for All About Asbestos. She has been in control of our digital marketing for nearly 2 years and enjoys updating our customers with asbestos news.